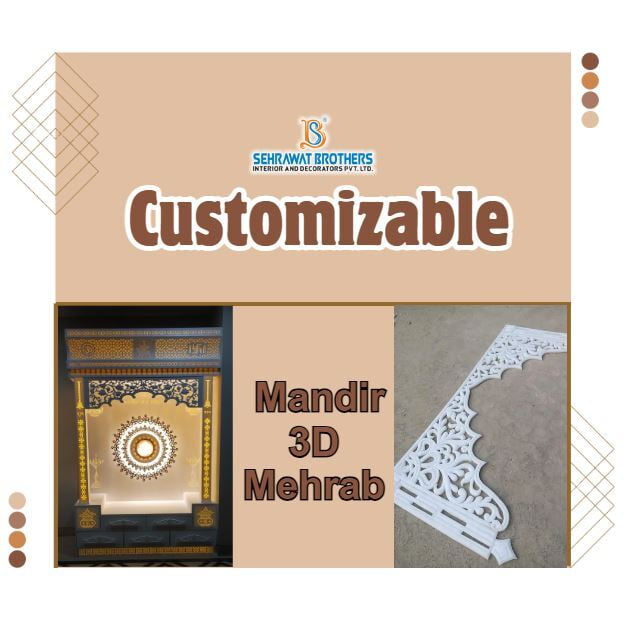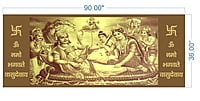 Customizable Mandir 3D Mehrab
Transform your spiritual environment with our 3D Mehrab, available in Corian, WPC, and HDHMR materials. Meticulously crafted to give the appearance of a three-dimensional relief, our 3D Mehrab is more than just a decorative element—it's a tribute to art and spirituality. Customize the Mehrab in dimensions and designs that best suit your place of worship, creating an ambience that reflects your faith and devotion.
Key Features:
Multi-Material Options: Choose from Corian for stain resistance, WPC for moisture and termite resistance, and HDHMR for high-density durability.

Exquisite Craftsmanship: The intricate 3D carving adds unparalleled depth and dimension, making it look like a piece of divine artistry.

High Durability: Regardless of the material you choose, each is known for its durability and resistance to external factors.

Easy Maintenance: Each material is easy to clean and maintain, offering a hassle-free experience.

Ready for Installation: Your 3D Mehrab will arrive pre-finished, ready for immediate installation.
---
How to Order & Production Steps:
Step 1: Place the Order: Calculate the square footage you need for your Mehrab. For instance, for a 5 Sq Ft area, add 5 Qty to your cart.

Step 2: Design Consultation: Our skilled designers will contact you for a personalized consultation to discuss your material choices, size requirements, and design preferences.

Step 3: Design Approval & Production: Only upon your approval will the production commence. This ensures a custom-fit 3D Mehrab that perfectly encapsulates your vision and faith.
Elevate your place of worship with our multi-material 3D Mehrab—where devotion meets artistic brilliance.
Material Options: Corian, WPC (Wood Plastic Composite), HDHMR (High-Density High Moisture Resistant)
Thickness: Corian - 12 MM, WPC & HDHMR - Available in 18 MM & 25 MM
Design: Intricate 3D Carving
Color: Raw White as default, custom colors available upon request.
Finish: No need for painting; each material offers its unique, elegant finish.
Size: Customized according to the Sq.Ft you add to your cart.